Wild Weekly Weekends Trips in October 2018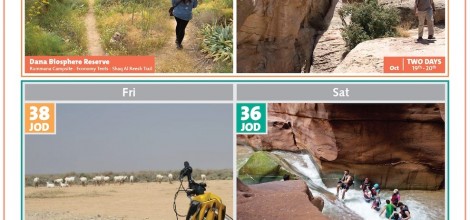 • For overnight trips, prices include transportation, accommodation, guided trails and 3 meals.
• For one day trip, price includes transportation, guided trail and lunch.
• All trips depend on weather conditions.
• Prices are tax inclusive.
• Minimum age to participate in the Siq Trail is 18 years
• The price is for one person in shared room.
• Ask about the RSCN members discount or become a member and get your discount.
Stay tuned for Wild Jordan's November 2018 Trips.
Wild Jordan's revenues contribute to the sustainability of RSCN's protected areas and supports the socio economic development of local communities.
Wild Jordan is a registered trademark for The Royal Society for the Conservation of Nature.
www.wildjordan.com