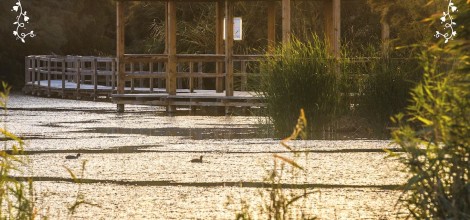 Trip Program:
08:30 a.m. – Meet at Wild Jordan Center – Jabal Amman
09:00 a.m. – Departure to Ajloun Forest Reserve
11:00 a.m. – Arrival to Azraq Wetland Reserve and start the hike – Marsh Trail (up to one hour)
12:15 a.m. – Start the Chechen Experience
02:00 a.m. – Visit the Socioeconomic projects and Lunch at Azraq Lodge
03:00 p.m. – Departure to Amman
Trail Description:
Marsh Trail
Grade: Easy
Time: 45-60 minutes
Description: This easy walking trail gives you an excellent introduction to the Azraq Wetland Reserve. The boardwalk leads you through dry and wet areas to a viewing platform overlooking the artesian pools that once released millions of cubic meters of water into the marshland. After leaving the platform, the trail takes you over an ancient black basalt wall, most likely constructed by an Umayyad Caliph. The trail then leads to a bird hide made of local mud brick where you can observe the migratory birds and perhaps catch a glimpse of the water buffalo. Follow the trail back to the Visitor Center, passing yet another part of the ancient basalt wall.
The Experiential Tourism Description:
The Chechen Experience
Azraq is a multicultural region; it is home for people with diverse origins. Having said that, we are taking you on a Chechen experience. Chechens who are originally from Chechnya- located in the north of the Caucasus Mountains- were among the first settlers in Azraq region; their culture has vastly influenced the area. The experience starts with a 3 km bike ride from Azraq Lodge towards the Chechen House, where you will be briefed about the Chechen culture, its heritage, customs and traditions over a warm cup of tea. A Chechen lady from the nearby community will showcase the Chechen traditional costume, as well as some arts and crafts that reflect her heritage pride. At lunch, you will get indulged experiencing authentic Chechen cuisine with both savory and sweet dishes. The journey finishes off with a traditional group picture with members of the group wearing Chechen costumes right after watching a few Chechen folkloric dances, most people find themselves can't help but get engaged in the enthusiastic heart pumping dances!
What to bring:
1. Enough water (at least 2 liters).
2. ID or Passport
3. Sun protection (sunscreen, hat, and sunglasses)
4. Camera
5. Jacket
For reservation & inquiries:
06 4616523
+962 797000086
tourism@rscn.org.jo
Price of the trip is JOD 30/ person including transportation, the experience fee and lunch meal (open buffet)