Meet Wild Jordan Center Coordinator Ms. Geodon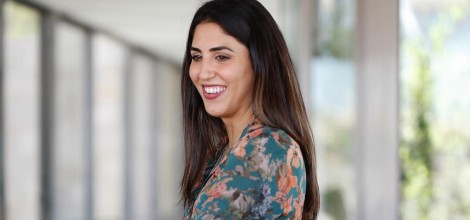 WJC is managed by ATICO Fakhreldin Group and is owned by The Royal Society for the Conservation of Nature. It aims to generate an income for the rural communities of the 8 reserves in Jordan protected by RSCN and also promotes ecotourism, whereby custom-made tours accommodate those interested in a very special and unique experience at various reserves. Wild Jordan Center provides many services, including musical and cultural events, long-term lodges, meeting rooms and an exceptional dining experience, using wholesome and local ingredients in various locations. The seasonal menu at Wild Jordan Center emphasizes natural ingredients and is admant about using local produce. It also offers an organic menu and a Daily Special, which includes a soup/salad, main meal and dessert.
Ms. Yasmeen Gedeon joined Wild Jordan Center almost a year ago as WJC Coordinator, back in July 2018. Ms. Gedeon has been doing a fantastic job and we wanted to hear more about her experience! With a Nutritional background and Yoga practice certification we thought we'd really like to hear more her about her position, achievements and objectives.
What path did you take to get where you are today?
I followed and pursued my passion for fitness, health, and nutrition. I sought out advise from those who I inspired me, and focused my time and energy on the things I loved doing.
What have you learned in the last week?
Working overtime and through weekends has definitely made me learn how to prioritize, and use my time more efficiently.
Which food could you never give up? And what's your favorite dish at WJC?
I could never give up chocolate, but in small quantities of course. I love everything on the menu, especially 'myskinnyseasons' section, but perhaps my favorite is the Buddha Bowl, as it is nutritious and delicious.
What do you hope to see at WJC in 5 years?
I hope to see the center continue thriving as it has been doing, and to strengthen its reputation as a family-friendly go-to destination, known for its healthy local food offerings, its work-friendly ambiance, and its distinctive collaborations with health, lifestyle and nature related activities.